The Special Cell unit of Delhi Police has arrested a suspect named Devendra Choudhary for creating an Instagram page called "profit_mania" which was used to run a fraud investment racket. As per the Delhi Police, Instagram users were targeted over chat by Choudhary to invest money in bogus schemes. "Over Rs 12 lakh got credited to the fraudsters account in the last few months," the police said.
The suspect used to chat with innocent people and he used to share UPI IDs or QR codes to accept payment in the name of "investments". Such schemes were widely publicised by so-called influencers on Instagram who promised big returns through investments in cryptocurrency, online gaming and other new modes of income which the general public in India has little clue about.
Profit_Mania, a fraud scheme floated on Instagram busted. One person arrested and one CCL apprehended.Such immedi… https://t.co/hxyqJKKppd

— DCP Cybercrime (@DCP_CCC_Delhi) 1634531451000
The Delhi Police Cyber Crime division through its official Twitter page–@DCP_CCC_Delhi– alerted users about the same and also said that it is a new trend for online influencers to convince gullible citizens about "double money return" schemes and make people feel bad about missing the "opportunity" of investing in instruments like cryptocurrency, binary trading, crypto mining, online betting and gaming. Well known Instagram influencers with huge following are promoting such instant money growth schemes, as per the police.
Copy of the FIR: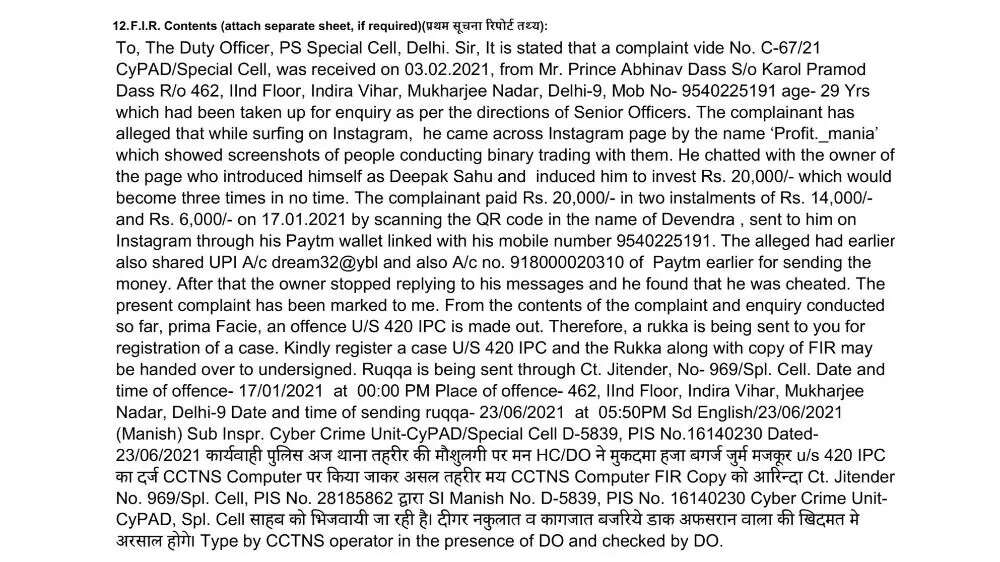 DCP Cyber Crime also mentioned that if any user has been duped by such schemes can report the incident on 155260.
With the rising incidents of e-KYC scams and other related frauds where citizens are losing money via UPI, the Cybercrime division of Delhi Police said that people can report frauds like these by calling 155260. Delhi Police is assuring victims of "prompt relief" but it hasn't detailed much on how relief would be provided. Having said that, Delhi Police claims that reporting online financial frauds immediately on 155260 may help victims get back their money.
This helpline number is part of the Citizen Financial Cyber Fraud Reporting and Management System that has been developed in-house to integrate Law Enforcement Agencies and Banks and Financial Intermediaries. It is currently being utilized along with 155260 by seven States and Union Territories (Chhattisgarh, Delhi, Madhya Pradesh, Rajasthan, Telangana, Uttarakhand and Uttar Pradesh).