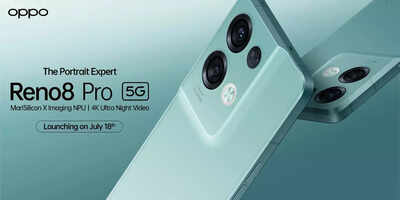 Oppo Reno series has been known for its design language. The smartphone series design has been the key highlight since its launch in 2018. It seems the upcoming Reno 8 series will be no different. Oppo will launch Oppo Reno 8 series in India on July 18. The series will comprise Oppo Reno 8 and Oppo Reno 8 Pro. This time, Oppo claims that it has adopted the Golden Ratio from Sacred Geometry as the philosophy for its Reno 8 Pro phones.
What is Golden Ratio
The Golden Ratio (1:.618) forms the basis of the Reno 8 Pro's design and is said to be a mathematical proportion that is naturally pleasing to the eye. "The Golden Ratio occurs in the arrangement of the seeds in a sunflower, the petals of a rose, and even the spiral of the Nautilus shell. It is visible in the architecture of the Parthenon, the Great Pyramids and even the Taj Mahal," says the company in a release. Oppo's designers are claimed to have used this very same proportion to section the rear camera module — both laterally and vertically — on the handset.
The sleekest Oppo Reno yet
Oppo says that the upcoming Oppo Reno 8 Pro will be the company's sleekest Reno device yet. The entire back of the handset is said to use a single piece of glass that is heat-forged and pressure moulded to form the soft curves required for the camera module. The process involved creating a graphite mould that was hand polished with three diamond sheets of different roughness to ensure smoothness. To remove the wrinkles caused by high-temperature forging and moulding around the camera module, Oppo team is said to have employed eight nanometre-scale polishing processes to guarantee a surface fineness of 1-2 nanometres. Oppo says that the phone's camera module has been designed as per the prominent binocular camera set-up to resemble the two reels of a film camera. This also draws a parallel to the infinity symbol—as well as the number '8'—- to denote its order in the Reno Series.
The slimmest Oppo Reno yet, Oppo Reno 8 Pro will weigh 179 gm and is 7.67mm thin. The smartphone will come with an aluminium frame, coupled with Gorilla Glass 5.
To come in new colours
The ultra-slim Oppo Reno8 Pro will be available in two colours -— Glazed Green and Glazed Black. The Reno 8 will come in two plush hues: Shimmering Gold, a colour effect claimed to be achieved by a combination of dual textures and coatings; and Shimmering Black, which is said to resemble a starry night sky.
FOLLOW US ON SOCIAL MEDIA
FacebookTwitterInstagramKOO APPYOUTUBE
!(function(f, b, e, v, n, t, s) {
window.TimesApps = window.TimesApps || {};
const { TimesApps } = window;
TimesApps.loadFBEvents = function() {
(function(f, b, e, v, n, t, s) {
if (f.fbq) return;
n = f.fbq = function() {
n.callMethod ? n.callMethod(…arguments) : n.queue.push(arguments);
};
if (!f._fbq) f._fbq = n;
n.push = n;
n.loaded = !0;
n.version = '2.0';
n.queue = [];
t = b.createElement(e);
t.async = !0;
t.src = v;
s = b.getElementsByTagName(e)[0];
s.parentNode.insertBefore(t, s);
})(f, b, e, v, n, t, s);
fbq('init', '593671331875494');
fbq('track', 'PageView');
};
})(
window,
document,
'script',
'https://connect.facebook.net/en_US/fbevents.js',
);if(typeof window !== 'undefined') {
window.TimesApps = window.TimesApps || {};
const { TimesApps } = window;
TimesApps.loadScriptsOnceAdsReady = () => {
var scripts = ['https://static.clmbtech.com/ad/commons/js/2658/toi/colombia_v2.js',
'https://www.googletagmanager.com/gtag/js?id=AW-877820074',
'https://imasdk.googleapis.com/js/sdkloader/ima3.js',
'https://tvid.in/sdk/loader.js',
'https://timesofindia.indiatimes.com/video_comscore_api/version-3.cms',
'https://timesofindia.indiatimes.com/grxpushnotification_js/minify-1,version-1.cms',
'https://connect.facebook.net/en_US/sdk.js#version=v10.0&xfbml=true',
'https://timesofindia.indiatimes.com/locateservice_js/minify-1,version-14.cms'
];
scripts.forEach(function(url) {
let script = document.createElement('script');
script.type="text/javascript";
if(!false && !false && !false && url.indexOf('colombia_v2')!== -1){
script.src = url;
} else if (!false && !false && !false && url.indexOf('sdkloader')!== -1) {
script.src = url;
} else if (url.indexOf('colombia_v2')== -1 && url.indexOf('sdkloader')== -1){
script.src = url;
}
script.async = true;
document.body.appendChild(script);
});
}
}