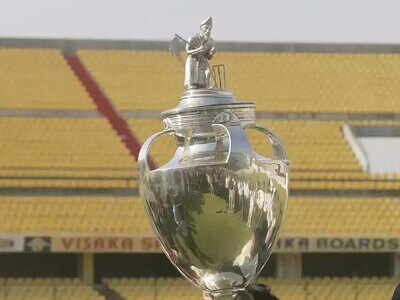 MUMBAI: Contrary to speculation, the BCCI is not going back to the zonal system for the Ranji Trophy this season, which will see 136 matches being held this season-33 less than the previous one, in wake of the Covid-19 pandemic. Instead, to avoid travelling during the matches in each group will be played on four grounds in two cities.
As per a provisional schedule of the domestic season, about which TOI had reported exclusively on Sunday, teams have been divided into five groups. Groups A, B & C will consist of eight teams each, while Group D will comprise six, seven or eight teams. The top two teams in groups A, B & C will qualify for the knockouts.
All the six Northeastern teams have been clubbed in Group E. Interestingly, in an innovation, the Board has introduced a new round – the winner of Group D will face the first-placed team of Group E for a pre-quarterfinal, the winner of which will move into the quarterfinals.
The bottom-placed teams of groups A, B & C get relegated to Group D, while the top three teams from Group D get promoted to groups A, B & C. The bottom-placed team in Group D will be relegated to Group E, while the top placed team from Group E will be promoted to Group D.