MUMBAI: Humiliated by a female
co-worker
's taunting, a 21-year-old man working as a housekeeper at a Goregaon high-rise murdered her in the staff washroom. Vikas Khairnar, the accused, packed the body in a plastic
sack
(which he put in two more) and took it in an auto and then on a local train, before dumping it on tracks in broad daylight. The GRP nabbed Khairnar within 14 hours of finding the body.
Sarika Chalke, the 30-year-old victim, worked as a maid at the high-rise and was a mother of two. On Tuesday morning, her corpse was found on tracks between Mahim and Matunga. "There was no identification on her. But the name of a Goregaon drug company was embossed on the sack," said DCP Sanjeev Bhajibhakre.
Chalke's husband had registered a missing complaint at Dindoshi
police
station. The description in the complaint matched that of the body. Investigators looked through her call records and found she had spoken several times with Khairnar before she went missing.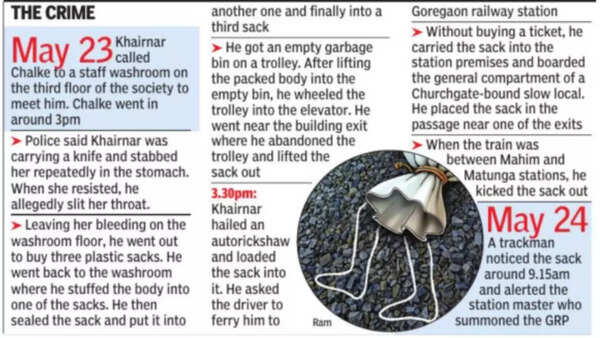 At the Goregaon high-rise police checked CCTV footage and noticed Khairnar carrying a garbage bin on a trolley up and down the elevator. Cornered, he told the police he harboured animosity towards Chalke. The police said the duo used to be close but gradually drifted apart. "Chalke allegedly taunted Khairnar in presence of coworkers. He was also displeased when he saw her befriending other male staff," said senior inspector Kedari Pawar, Mumbai Central GRP. Chalke had also borrowed money from Khairnar, which she had not returned.
"Khairnar planned the murder over three days ago and bought a knife. He called Chalke to meet him in the staff washroom on the third floor, where she was murdered," said senior inspector Arshuddin Shaikh of GRP crime branch (see graphic for details). There was no foul odour as the body was not decomposed. The security guards suspected nothing amiss as Khairnar was a staffer. Khairnar did not expect cops to turn up at the high-rise within a day of the murder and was picked up from the premises.
!(function(f, b, e, v, n, t, s) {
window.TimesApps = window.TimesApps || {};
const { TimesApps } = window;
TimesApps.loadFBEvents = function() {
(function(f, b, e, v, n, t, s) {
if (f.fbq) return;
n = f.fbq = function() {
n.callMethod ? n.callMethod(…arguments) : n.queue.push(arguments);
};
if (!f._fbq) f._fbq = n;
n.push = n;
n.loaded = !0;
n.version = '2.0';
n.queue = [];
t = b.createElement(e);
t.async = !0;
t.src = v;
s = b.getElementsByTagName(e)[0];
s.parentNode.insertBefore(t, s);
})(f, b, e, v, n, t, s);
fbq('init', '593671331875494');
fbq('track', 'PageView');
};
})(
window,
document,
'script',
'https://connect.facebook.net/en_US/fbevents.js',
);if(typeof window !== 'undefined') {
window.TimesApps = window.TimesApps || {};
const { TimesApps } = window;
TimesApps.loadScriptsOnceAdsReady = () => {
var scripts = ['https://static.clmbtech.com/ad/commons/js/2658/toi/colombia_v2.js',
'https://www.googletagmanager.com/gtag/js?id=AW-877820074',
'https://imasdk.googleapis.com/js/sdkloader/ima3.js',
'https://tvid.in/sdk/loader.js',
'https://timesofindia.indiatimes.com/video_comscore_api/version-3.cms',
'https://timesofindia.indiatimes.com/grxpushnotification_js/minify-1,version-1.cms',
'https://connect.facebook.net/en_US/sdk.js#version=v10.0&xfbml=true',
'https://timesofindia.indiatimes.com/locateservice_js/minify-1,version-12.cms'
];
scripts.forEach(function(url) {
let script = document.createElement('script');
script.type="text/javascript";
if(!false && !false && url.indexOf('colombia_v2')!== -1){
script.src = url;
} else if (!false && !false && url.indexOf('sdkloader')!== -1) {
script.src = url;
} else if (url.indexOf('colombia_v2')== -1 && url.indexOf('sdkloader')== -1){
script.src = url;
}
script.async = true;
document.body.appendChild(script);
});
}
}