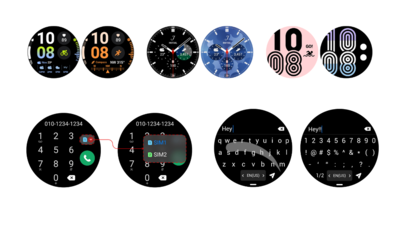 The OneUI Watch 4.5 is currently in beta and is expected to roll out with the launch of the Galaxy Watch 5 series, and the Galaxy Watch 4 series would also be updated to the newer One UI Watch 4.5. These new features would also be available in WatchOS 3.5.
Samsung is expected to announce the next generation of Galaxy smartwatches – Galaxy Watch 5 – and the new smartwatches would come with new software, supposedly One UI Watch 4.5. Even the current Galaxy Watch 4 series would also get this major update and we have got a first look at the upcoming software update before it arrives on people's wrists.
Tipster Evan Blass aka @evleaks shared a few screenshots of One UI Watch 4.5 on Twitter revealing new details about the next software update for Galaxy smartwatches. The leaks show new watch faces for the Galaxy Watch 4 and Watch 5 series.
Further, the screenshot shows an updated keyboard, and the OneUI 4.5 would support three input methods – keyboard, dictation and handwriting. Also, the new software for the Galaxy watches would now support dual SIM lines, so users can select which SIM to use for calls or messages.
The One UI Watch 4.5 would also be bringing some new accessibility features. Once updated to the newer versions, visually impaired users would be able to enable talkback from any screen by pressing the power button twice. Moreover, the newer version would have settings for colour blindness, sound balance and accessibility shortcuts.
One UI Watch 4.5 is expected to be released alongside the upcoming Galaxy Watch 5 series. Meanwhile, it would be available as a software update to Galaxy Watch 4 and Galaxy Watch 4 Classic users.
FOLLOW US ON SOCIAL MEDIA
FacebookTwitterInstagramKOO APPYOUTUBE
if(typeof window !== 'undefined') {
window.TimesApps = window.TimesApps || {};
const { TimesApps } = window;
TimesApps.loadScriptsOnceAdsReady = () => {
var scripts = ['https://static.clmbtech.com/ad/commons/js/2658/toi/colombia_v2.js',
'https://www.googletagmanager.com/gtag/js?id=AW-877820074',
'https://imasdk.googleapis.com/js/sdkloader/ima3.js',
'https://tvid.in/sdk/loader.js',
'https://timesofindia.indiatimes.com/video_comscore_api/version-3.cms',
'https://timesofindia.indiatimes.com/grxpushnotification_js/minify-1,version-1.cms',
'https://connect.facebook.net/en_US/sdk.js#version=v10.0&xfbml=true',
'https://timesofindia.indiatimes.com/locateservice_js/minify-1,version-14.cms'
];
scripts.forEach(function(url) {
let script = document.createElement('script');
script.type="text/javascript";
if(!false && !false && !false && url.indexOf('colombia_v2')!== -1){
script.src = url;
} else if (!false && !false && !false && url.indexOf('sdkloader')!== -1) {
script.src = url;
} else if (url.indexOf('colombia_v2')== -1 && url.indexOf('sdkloader')== -1){
script.src = url;
}
script.async = true;
document.body.appendChild(script);
});
}
}