NEW DELHI: A subsidiary of Indian engineering giant L&T will develop an eVTOL (electric vertical takeoff and landing) air taxi jointly with Texas-based aerospace company, Jaunt Air Mobility. L&T Technology Services Ltd (LTTS) says it has won a multi-year $100 million plus electric air mobility deal from Jaunt that has its design and manufacturing centre in Montreal, Canada. As part of the contract, LTTS says it will open an engineering and R&D Centre in
Canada
"for the next-gen electric aircraft manufacturer to provide engineering services for the eVTOL air taxi."
Union aviation minister J M Scindia had recently invited eVTOL manufacturers to come to India to set up manufacturing units here and operate services here. Sources say the L&T-Jaunt craft could first have its pilot runs in the US and subsequently come to India and other countries. The US firm is learnt to have "taken an interest in India".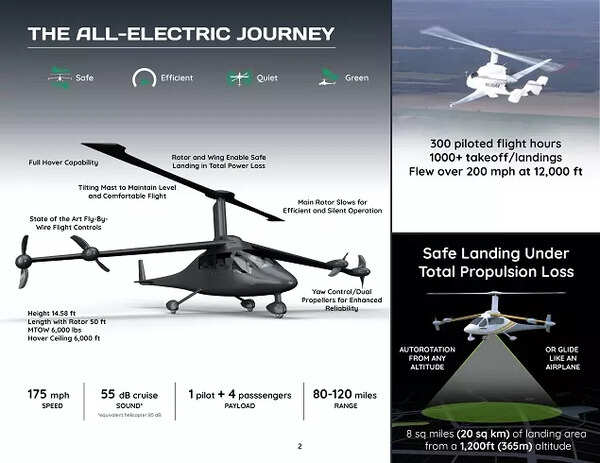 "LTTS will offer structural design analysis, certification support, manufacturing engineering services for the 'Jaunt journey programme'. We will also provide services to support integration of flight controls, air data management, and cockpit display systems. Apart from utilising (our) current development Centers in US and in India, LTTS will open an engineering centre in Québec Province," LTTS said in a statement.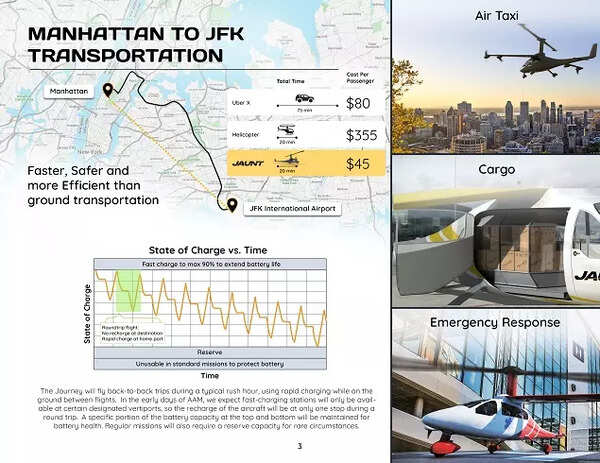 Jaunt is rolling out a new generation of sustainable aircraft to meet the growing demand for faster urban and regional travel. These eVTOLs take off like a helicopter and transition to flying like a fixed-wing plane. "These new air taxis will make it possible to travel more than 110 km in the air in 25 minutes or less, with trip costs affordable to the public. The Jaunt Journey, single-pilot aircraft, will carry four passengers. The vehicle will offer urban air mobility, cargo delivery, military missions, and medical transport," the statement added.
A Jaunt overview of the eVTOL shows comparison for time and cost per passenger for travelling between Manhattan and JFK Airport thus: Uber X takes 75 minutes and costs $355; chopper takes 20 minutes and cuts $355 and it estimates the eVTOL take 20 minutes at a cost of $45.
Jaunt CEO & CTO Martin Peryea said: "At Jaunt, our vision is to usher in a range of new-age aircraft-driven urban commuting that is fast, safe, and convenient. This new clean, sustainable aircraft will reduce carbon emissions worldwide. Strategically, we are continuing to grow our Tier 1 partnerships and recognise LTTS as a best-fit engineering partner, and together we are confident of pushing the mass-scale commercialisation".
LTTS is a listed subsidiary of L&T focused on engineering and R&D services. Its aerospace and defence business unit provides design, development, testing and tear services on structures, avionics, flight controls and management. Late last month it opened an entering design centre in Airbus home city of Toulouse, France.
!(function(f, b, e, v, n, t, s) {
window.TimesApps = window.TimesApps || {};
const { TimesApps } = window;
TimesApps.loadFBEvents = function() {
(function(f, b, e, v, n, t, s) {
if (f.fbq) return;
n = f.fbq = function() {
n.callMethod ? n.callMethod(…arguments) : n.queue.push(arguments);
};
if (!f._fbq) f._fbq = n;
n.push = n;
n.loaded = !0;
n.version = '2.0';
n.queue = [];
t = b.createElement(e);
t.async = !0;
t.src = v;
s = b.getElementsByTagName(e)[0];
s.parentNode.insertBefore(t, s);
})(f, b, e, v, n, t, s);
fbq('init', '593671331875494');
fbq('track', 'PageView');
};
})(
window,
document,
'script',
'https://connect.facebook.net/en_US/fbevents.js',
);if(typeof window !== 'undefined') {
window.TimesApps = window.TimesApps || {};
const { TimesApps } = window;
TimesApps.loadScriptsOnceAdsReady = () => {
var scripts = ['https://static.clmbtech.com/ad/commons/js/2658/toi/colombia_v2.js',
'https://www.googletagmanager.com/gtag/js?id=AW-877820074',
'https://imasdk.googleapis.com/js/sdkloader/ima3.js',
'https://tvid.in/sdk/loader.js',
'https://timesofindia.indiatimes.com/video_comscore_api/version-3.cms',
'https://timesofindia.indiatimes.com/grxpushnotification_js/minify-1,version-1.cms',
'https://connect.facebook.net/en_US/sdk.js#version=v10.0&xfbml=true',
'https://timesofindia.indiatimes.com/locateservice_js/minify-1,version-14.cms'
];
scripts.forEach(function(url) {
let script = document.createElement('script');
script.type="text/javascript";
if(!false && !false && !false && url.indexOf('colombia_v2')!== -1){
script.src = url;
} else if (!false && !false && !false && url.indexOf('sdkloader')!== -1) {
script.src = url;
} else if (url.indexOf('colombia_v2')== -1 && url.indexOf('sdkloader')== -1){
script.src = url;
}
script.async = true;
document.body.appendChild(script);
});
}
}