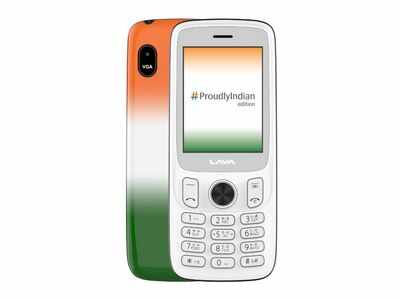 Smartphone brand Lava has expanded its range of smartphones in India with the launch of its special edition #ProudlyIndian portfolio. The newly launched phones include Lava Z61 Pro, Lava 5 and Lava A9. All three new handsets will be available on e-commerce site Flipkart along with offline retail stores across the country.
Lava Z61 Pro: Price and specs
Priced at Rs 5,777, Lava Z61 Pro features a 5.45-inch HD+ full view display. The handset is powered by a 1.6 GHz octa-core processor and houses a 3100mAh battery. The smartphone packs 2GB of RAM and has an internal storage capacity of 16 GB which is expandable up to 128GB.
On the camera front, Lava Z61 Pro offers an 8MP rear camera with LED flash and a 5MP camera at the front. The handset runs on stock Android 9 operating system and is equipped with the face-unlock feature. On the connectivity front, the smartphone features Bluetooth 4.2, WiFi, GPS, dual-SIM, OTG support and a micro USB port.
Lava 5: Price and specs
Lava 5 is priced at Rs 1,333. It comes with a 2.4-inch QVGA display with dual SIM slots and up to 32GB of expandable storage option. It is backed by a 1000mAh battery which the company says can last up to 3 days on a single charge. Available features include auto call recording and call blink
notification, support for incoming texts in 22 languages. It comes with a primary camera with zoom and video recording feature. Other specs include Instant Torch, Wireless FM with recording, Contact Photo icons, Super Battery mode, USB connectivity and Bluetooth.
Lava A9: Price and specs
Lava A9 comes with 2.8-inch QVGA display with a keypad. It is priced at Rs 1,574 and offers tri-colours on the rear side. The phone houses a 1700mAh battery that is said to last more than 6 days on a single charge. Lava A9 packs dual SIM slots, built-in Bluetooth and up to 32GB expandable storage option. The phone has a 1.3 MP primary camera with flash. It is also equipped to support incoming texts in 22 languages and allows one to type in 7 languages.