As the investigations into
Sushant Singh Rajput
's death intensifies with the
Enforcement Directorate
(ED) probing
Rhea Chakraborty
and a few others, new reports state that a while before his untimely demise, the actor asked for his bank account to be closed.
In a report on Times Now, Sushant reportedly reached out to the Kotak Mahindra bank and asked for the closure of his existing account and sought to open a new one. However, the channel claims that just days later, the actor cancelled the request for the same.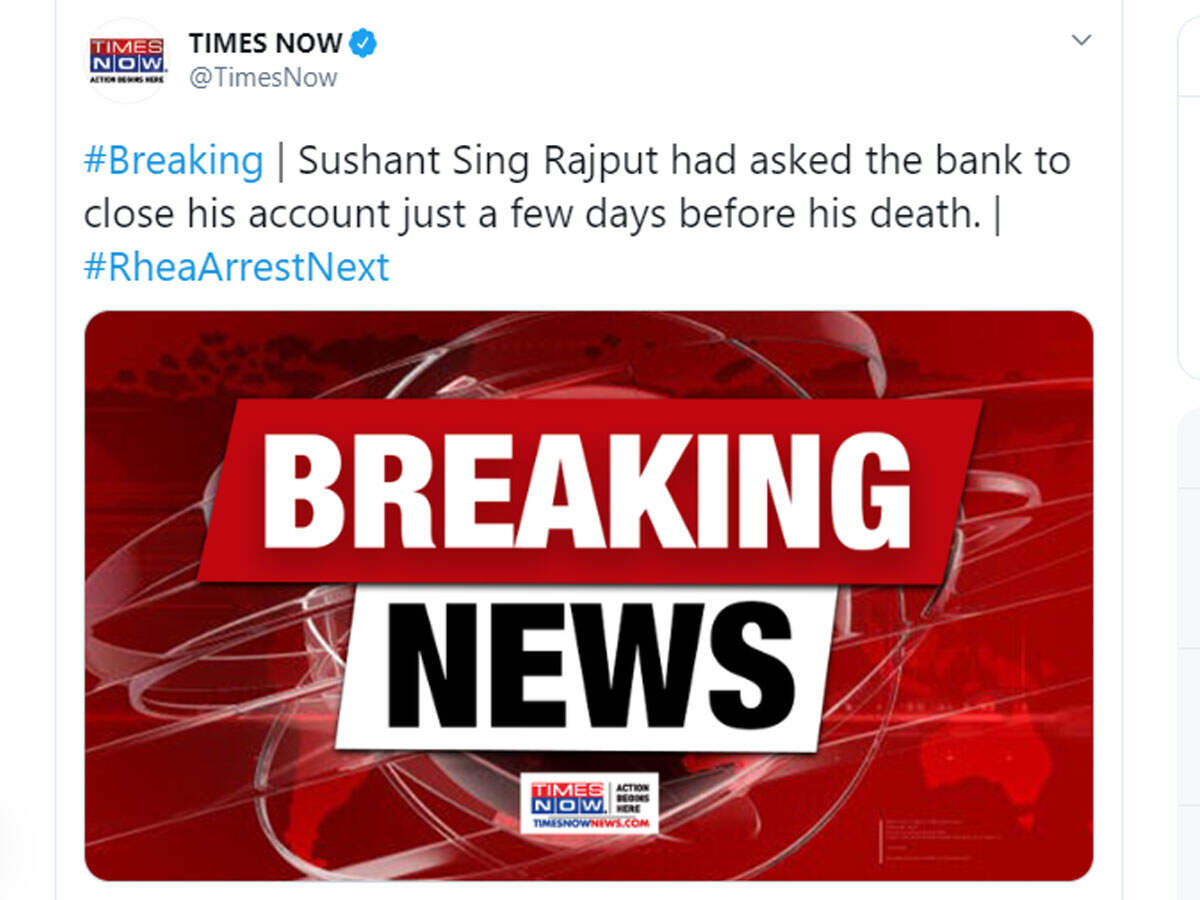 The news channel also brought to light certain bank statements that reveal money transactions between Sushant, Rhea Chakraborty, Showmik Chakraborty and even the house manager Samuel Miranda.
#Breaking | Sushant Singh Rajput transferred money to the account of Rhea Chakraborty's brother Showik. Details b… https://t.co/HmEWxG3Z3n

— TIMES NOW (@TimesNow) 1596805745000
Contrary to various rumours, the money transfers range up to Rs 40,000. According to the report, the bank statements indicated Sushant, Rhea and even Samuel transferred small sums of money into Showik's account, but the reasons for the same is unknown.

Rhea and her brother were summoned to the ED's Mumbai office on Friday afternoon where they have been questioned on various financial aspects. The other accused including Rhea's father and her former manager Shruti Modi have also been called in for questioning today. According to the latest updates, the actress has reportedly not been co-operating with the ED, who may call her back for questioning for the second time next week.
Reports on IANS claim that Rhea will be asked to submit the details of her bank statements and amount of money received from other bank accounts and if any transactions happened from Sushant's Kotak Mahindra bank account as alleged by his father K.K. Singh in his complaint to Patna Police on July 25.
Sushant's father in his complaint to Bihar Police has alleged that from the actor's Kotak Mahindra Bank account, a total of Rs 15 crore was withdrawn or transferred.
The ED has registered a case under the Prevention of Money Laundering Act against Rhea and her family members on the basis of the complaint of Singh submitted at the Rajiv Nagar police station in Patna.
The investigating team is also set to look into her income and purchases of two high-value property in Mumbai city.